Mac-Jordan Degadjor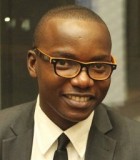 Mac-Jordan Degadjor is an avid technology blogger and the COO of New Africa Media, a digital media company that focuses on promoting innovation and entrepreneurship in Africa.
Haven't travelled and worked with young people in different parts of the world especially in Nigeria, San Francisco, Kenya, Uganda, South Africa and North Africa (Egypt and Tunisia), he believes in the African talent, human resources and potential and is very passionate in supporting and helping other fellow Africans.
As the communication director of BloggingGhana, which is the largest organization of social media users and activists in Ghana, he helped orchestrate online coverage of the 2012 Ghanaian Presidential elections through their social project – Ghana Decides.
He was a contributor to Global Voices Online, where he helped in aggregating citizen media content from the sub-Saharan region in Africa.
As part of his efforts to increase online connectivity, Degadjor and his team of young technologist from Ghana has organized Barcamps, a series of workshops that teach Ghanaians how to use the Internet and networking whiles creating jobs across Ghana.
Degadjor was the keynote speaker at eLearning Africa 2013 in Windhoek, Namibia.
He was also a 2011 Knight Digital Media Fellow at the UC Berkeley Graduate School of Journalism and was selected by the U.S. State Department as the first Ghanaian Internet Freedom Fellow in 2013.
As a native of Ghana, Mr. Degadjor has devoted much of his life to promoting African startups, entrepreneurs, innovative ideas and technology solutions, both in Africa, Europe and in the U.S. He believes the future if Africa is NOW!
He holds a Bachelor of Science in MIS from Ukraine and is very fluent in English and Russian.