→Reports and Surveys
eLearning Africa conducts regular surveys and publishes reports, such as the eLearning Africa Report - the essential Guide to EdTech, Digital Technology, and Learning and Development in Africa. Our Reports are a leading source of news, information, and analysis about ICT, EdTech, digital technology, learning and development.
With contributions from experts, practitioners, advisers, entrepreneurs, students and even artists, they provide a fascinating insight into how technology assisted learning and training are leading change and development throughout Africa. Ranging across the education and training spectrum, they provide an insight into how a host of developments, from improved connectivity, blockchain, and open education resources to distributed learning, gamification and greater gender equality, are likely to affect learning outcomes in Africa.
Available free to download, the eLearning Africa Report 2019 combines news, features, interviews and profiles of leading figures with controversial opinion columns, a survey of 900 education and technology experts, detailed country reports and the Directory of African EdTech companies.
eLearning Africa not only produces its own reports but also works in partnership with other organisations to provide specialised reporting and analysis on particular topics. Our recent report on 'The Impact of Covid-19 on Education in Africa,' which was produced in partnership with the EdTech Hub, involved a detailed survey of our network and was published in September 2020, is a case in point. If you'd like to discuss opportunities for your organisation to take advantage of our unique insights, coverage and access, please contact us.
→ The Effect of Covid-19 on Education in Africa and its Implications for the Use of Technology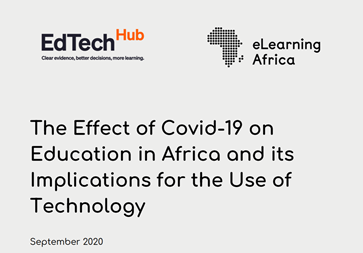 →Impact de la pandémie de COVID-19 sur l´éducation (PDF)
→O Efeito da COVID-19 na Educação em África e Suas (PDF)
Key Findings
1. There has been widespread school closure across Africa in response to the pandemic and 97% of respondents reported school closures in their countries, and 95% of these noted that all schools had been forced to close. This was seen as an appropriate decision, as 92% of respondents expressed that the closures were essential. 
2. A lack of access to technology is considered to be the biggest barrier for learning during the current pandemic together with school closures. Respondents felt that learners in rural communities are those most likely to be disadvantaged as a result. The most cited limitation is the lack of availability and affordability of connectivity. 
3. Early childhood and primary level students are seen to be most likely to be disadvantaged by the crisis and least likely to be able to access the technologies required for learning. 
4. Educational TV and radio are seen as the most important technologies for sustaining learning for students at the primary level. At the secondary level, online learning is considered to be the most important. 
5. Survey results show that the large majority of educators have not received financial support for teaching and learning tools to help them continue teaching in the crisis, and do not feel there has been sufficient preparation to help them adapt.
6. The majority of respondents – 83% – think that national curriculums should be adapted for the future in response to the current crisis, to enable more effective distance learning.
7. Half of all respondents – 50% – think that in the most significant long term effect of the crisis will be that it leads to new opportunities for education systems.
8. Some 85% of respondents anticipate that the current crisis will lead to more widespread use of technology in education in the future. However, they also note that this will lead to significant challenges for the most marginalised and may increase inequality.
→The eLearning Africa Report
→eLearning Africa: In Review
2022
2019
2018
2017
2016
2015
2014
2013
2012
2011
2010
2009
2008
2007
2006
→Conference Book of Abstracts and CD
The eLearning Africa Book of Abstracts (Print Version), which includes abstracts of the presentations, can be ordered by everyone who registered for the upcoming conference or purchased onsite for € 40. If you are not a registered conference participant or should you order the Book of Abstracts after the conference has taken place, the cost will be € 55 incl. postage.
The Conference CD-ROM includes abstracts of accepted papers and presentation slides and can be purchased together with the eLearning Africa Book of Abstracts
Books of Abstracts for the upcoming conference as well past conferences are available at the link below.