Maxwell Kyei Baffour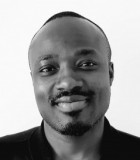 Maxwell is a digital learning, training and educational technology expert. He holds an MSc, a Post-Baccalaureate, a BSc and other certificates. He is the Digital Learning Manager of Aflatoun (www.aflatoun.org), an international non-profit organization that specializes in Financial Literacy and Life Skills content for children, and young people and teacher development using Active Teaching and Learning Methods. Aflatoun International is one of the few INGOs disrupting the technology space in Financial Literacy and Life Skills. In 2018, Aflatoun reached 8.6 million children and young people, and 122,802 teachers in 101 countries. The goal is to reach 20 million by 2020 and digital learning is integral to that vision and beyond.
Currently, Maxwell is focused on creating highly contextualized digital learning products on Financial Literacy and Life Skills for children and young people at low cost with high scale-up impact using technologies and tools that are familiar to the end-users.